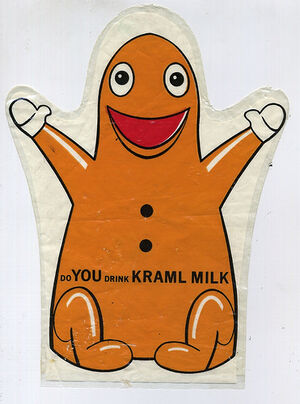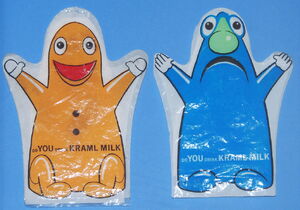 Muppets, Inc. produced 18 ten-second ads for Kraml Dairy, a local Chicago dairy, from 1958 to 1962. The ads featured Wilkins and Wontkins.
One ad, "Psychiatrist", opens with Wilkins hugging a carton of Kraml while Wontkins looked on disapprovingly:
Wilkins: "I really love my Kraml milk!"
Wontkins: "You should see a psychiatrist."
Wilkins: "I did, he's the one who told me about Kraml. I used to love my raincoat."
Campaign success
On July 7, 1964, William F. Wright of Wright, Campbell and Suitt Advertising wrote a letter to another advertising agency in Charlotte, NC, recommending that they use Muppets Inc. for an ad campaign. "Our experience is this," he wrote. "We put the Muppets on for Kraml Dairy about six years ago. At that time, Kraml ranked 23rd in sales among 50 Chicago dairies. Three years later, Kraml ranked 5th. In Jim Kraml's own words, 'We have been around for fifty years. Until we had the Muppets, nobody had heard of us outside a five-mile radius from the dairy. Today, everyone within fifty miles of Chicago knows Kraml Dairy.'"
Title list
Airplane
Brand X
Cannon
Construction Worker
Howdy Stranger
Jailhouse
Makes You Thin - 2%
Mallet
Marshall Dilly
Monster
Mountain Climbing
Old Man Kraml
Pie
Psychiatrist
Rocket Ship
Tunnel of Love
Water with Dinner
Ad blocker interference detected!
Wikia is a free-to-use site that makes money from advertising. We have a modified experience for viewers using ad blockers

Wikia is not accessible if you've made further modifications. Remove the custom ad blocker rule(s) and the page will load as expected.