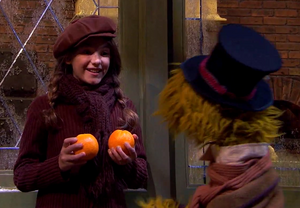 Kolette Tetlow is an American television, film and stage actress. Her most notable role was Ivanka in the Worldwide Equity tour of Once the Musical.
Tetlow appeared as an extra in the Sesame Street special Once Upon a Sesame Street Christmas. She appears during the 19th Century portions of the special, most particularly during the "Kindness Song," receiving some oranges from a neighbor and sharing one with a passing monster.
External links
Ad blocker interference detected!
Wikia is a free-to-use site that makes money from advertising. We have a modified experience for viewers using ad blockers

Wikia is not accessible if you've made further modifications. Remove the custom ad blocker rule(s) and the page will load as expected.