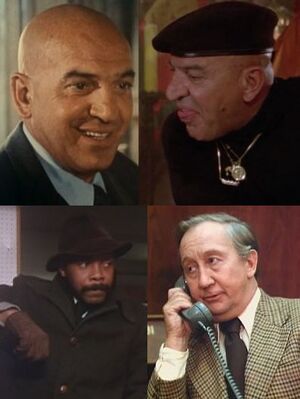 Kojak was a television detective series which ran from 1973-1978. It starred Telly Savalas as the title character, the bald, lollipop-sucking Lt. Kojak (with his "Who loves you, baby?" catchphrase).
References
In episode 113 of The Muppet Show, Bruce Forsyth makes jokes about Kojak. He says the show's been a hit in England, and referring to star Telly Savalas, says "He's such a sportsman... But he gets very annoyed at the bowling alley 'cause people keep sticking their fingers up his nose."
Connections
Ad blocker interference detected!
Wikia is a free-to-use site that makes money from advertising. We have a modified experience for viewers using ad blockers

Wikia is not accessible if you've made further modifications. Remove the custom ad blocker rule(s) and the page will load as expected.