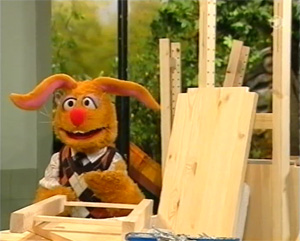 Knut Köffelström is a rabbit salesman who appeared on Sesamstrasse in episode 2406.
Knut comes by when Nils' shop shelves collapse. He talks Nils into buying his new shelves, the Köffelström 1000. Rumpel is convinced he can make one that's better than the Köffelström 1000. However, it turns out they are both badly constructed.
The puppet is refurbished from Preston Rabbit (Sesame Street), and also appeared on Sesamstrasse as Reiner Sauberhasi, Hasi Himmelglück, Henry and Armin.