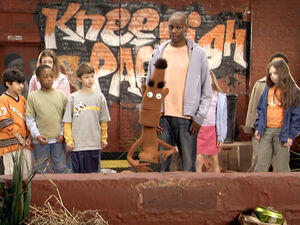 Chappelle's Show is a comedy sketch program hosted by stand-up comedian Dave Chappelle. It airs on Comedy Central.
In episode 210, a skit called Knee High Park parodied Sesame Street, and taught urban children the dangers of STDs and drugs. Puppeteers included Pam Arciero, Jim Kroupa, Tim Lagasse, Anney McKilligan and Noel MacNeal. Lagasse was also the puppet coordinator.
External links
Ad blocker interference detected!
Wikia is a free-to-use site that makes money from advertising. We have a modified experience for viewers using ad blockers

Wikia is not accessible if you've made further modifications. Remove the custom ad blocker rule(s) and the page will load as expected.