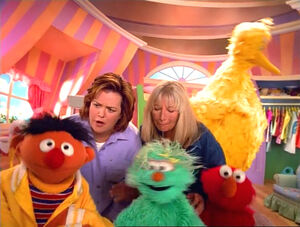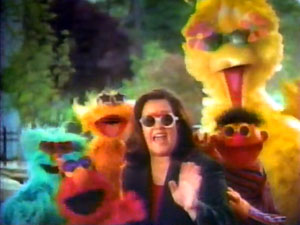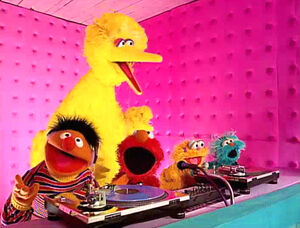 Kmart (sometimes styled as "K-Mart") is a major store chain. It has sold a number of exclusive video and DVD releases of various Henson-related productions.
Promotions
1997: Big Bird, Elmo, Ernie, and Rosita appeared in the Big Kmart commercial for the new remolded Kmart stores. Celebrities in this commercial include Martha Stewart, Kathy Ireland, and Bob Hope (cameo appearance at the end).
1999: In another commercial, Rosie O'Donnell shows off exclusive Sesame Street clothing for kids during a premiere of The Adventures of Elmo in Grouchland. Big Bird, Elmo, Ernie, Zoe, and Rosita arrived at the premiere and pose with Rosie O'Donnell for the photographers.
1999: Another commercial for the clothing featured Big Bird, Elmo, Ernie, Zoe, and Rosita playing music for the kids wearing the clothing brand.
2003: In a "right here. right now." commercial, Big Bird appears jumping and showing the letter K right before some kids wearing Big Bird hoodies are shown.
2008: Kmart provided a small coloring book with stickers included with the purchase of the Abby in Wonderland DVD.
Parodies
See also
External links