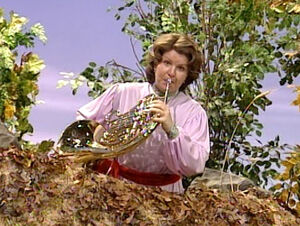 Klea Blackhurst is an actress who played a supporting role in the Sesame Street direct-to-video special, Elmo's Musical Adventure: Peter and the Wolf. She portrays the featured french horn player in the Boston Pops, which musically represents the wolf in the concert of Peter and the Wolf. As Baby Bear imagines the story, Blackhurst appears, playing an ominous tune on her horn, signaling the arrival of the titular wolf.
Blackhurst has performed extensively in cabaret and musical theater, including off-Broadway in the 1996 musical Radio Gals. She has portrayed Ethel Merman in a tribute show Everything the Traffic Will Allow and in concerts and played Ado Annie in a 2002 BBC Proms concert version of Oklahoma! Her other onscreen credits include a small role in Law & Order: Special Victims Unit and as Shelby Cross in The Onion News Network.
External links
Ad blocker interference detected!
Wikia is a free-to-use site that makes money from advertising. We have a modified experience for viewers using ad blockers

Wikia is not accessible if you've made further modifications. Remove the custom ad blocker rule(s) and the page will load as expected.