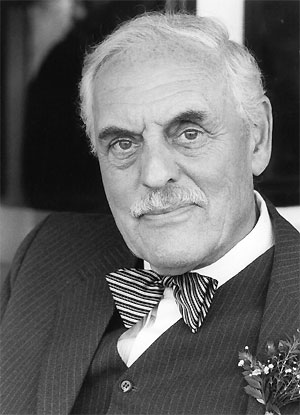 Klaus Höhne (1927-2006) was a German actor who dubbed Statler in several of the later Muppet projects dubbed between 1999 and 2006.
A frequent radio actor in the 1950s and 60s, Höhne's voice became familiar on German TV through dubs of old Hollywood movies, notably as the German voice of Charlie Chan (dubbing actors Warner Oland and Sidney Toler in the lead role). Years later, he did similar duty, dubbing first Richard Harris and then Michael Gambon as Dumbledore in the Harry Potter movies.
Höhne also dubbed John Mahoney in Barton Fink and The Hudsucker Proxy, Art Carney in Sunburn, Charles Durning in Happy New Year, Graham Crowden in Possession, John Gielgud in The Whistle Blower, Michel Robin in A Very Long Engagement, Robert Morley in The Human Factor and fellow German Wolfgang Kieling in The Vengeance of Fu Manchu. TV dubbing included David Suchet as Poirot (for the second through fourth seasons), Robert Hardy on All Creatures Great and Small (final two seasons), and Steven Hill on Law & Order.
On television, Höhne appeared on the long-running crime series Tatort, playing Kommissar Konrad in episodes shot in Frankfurt between 1971 and 1979 (eight as lead investigator, four in guest appearances), plus two eighties appearances as other characters. On-camera film credits included The Damned (with Dirk Bogarde) and Lady Dracula.
Muppet dub credits
External links