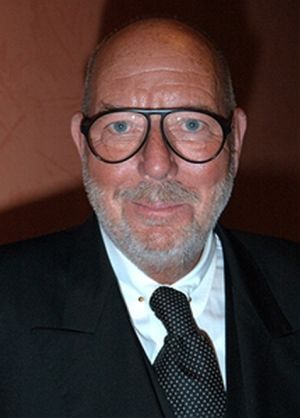 Klaus Guth (b. 1940) is a German voice actor who voiced the Storyteller (or "Der Geschichtenerzahler") in the German dub of The StoryTeller. He later dubbed Ubergonzo in Muppets aus dem All (Muppets from Space).
Often heard as cultured-sounding or elder statesman figures, Guth dubbed Jean Rochefort in several movies, John Cleese in Clockwise, Jeffrey Tambor in Eloise at the Plaza, David Warner in Waxwork, Stephen Tobolowsky in Single, White Female, Jonathan Hyde in The Tailor of Panama, F. Murray Abraham in Mimic, and Robert Beatty in The Magic Box. For TV, he dubbed John McEnery and other guests on Poirot.
Guth has had an active career in German film and television, including parts in two English language productions. He played a coroner in Bloodline (1979, with Audrey Hepburn and James Mason) and had a small role in the miniseries Holocaust (with Fritz Weaver). He has often been cast as government officials, including a recurring role on Der Bulle von Tölz (as state secretary Bertram von Gluck, 1996-2005) and multiple episodes of Ein Fall für zwei (as the prosecutor). He was a regular as stuffy accountant Adam Lehmann on the final season of the office sitcom Büro, Büro (1990-1991). In the 1988 film comedy Der Experte, he played a noted elections expert who is mistakenly replaced by a car mechanic. Guest appearances include Derrick (as a banker) and Tatort (as a newspaper editor).
External links
Ad blocker interference detected!
Wikia is a free-to-use site that makes money from advertising. We have a modified experience for viewers using ad blockers

Wikia is not accessible if you've made further modifications. Remove the custom ad blocker rule(s) and the page will load as expected.