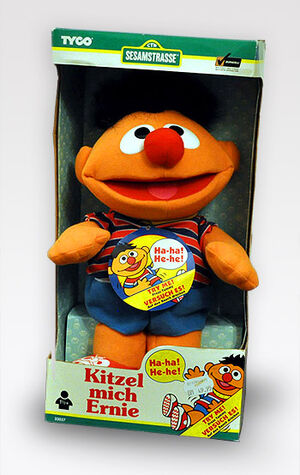 In response to the Tickle Me Elmo craze, Kitzel mich Ernie ("Tickle Me Ernie") plush dolls were produced for the German market by Tyco in 1997. The line also included Kitzel Mich Samson, featuring the shaggy Sesamstrasse bear, Samson.
A special variation of Kizel mich Ernie was released in 1998, to celebrate Sesamstrasse's 25th anniversary.
Ad blocker interference detected!
Wikia is a free-to-use site that makes money from advertising. We have a modified experience for viewers using ad blockers

Wikia is not accessible if you've made further modifications. Remove the custom ad blocker rule(s) and the page will load as expected.