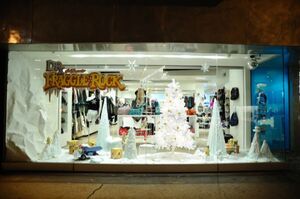 Kitson is a boutique located in Los Angeles, California on the famous Robertson Boulevard. Fraser Ross opened Kitson in 2000 as a single boutique store, with stores opening in Glendale, at Downtown Disney, and in Japan.
To help launch the "Fraggle Rock Forever" line planned for 2010, a Doozer-themed window was displayed for the Christmas season in 2009. The store carried Fraggle Rock Plush, T-shirts and Doozer figurines.
The Jim Henson Company also held a Fraggle Rock Holiday Toy Drive Benefit at Kitson on December 9, 2009.
In 2010 the store carried an exclusive Muppet bag, with an image of Kermit on the front and the lettering "I ♥ Kitson" on the back.
Exclusive merchandise
Kitson Christmas window 2009
External links
Ad blocker interference detected!
Wikia is a free-to-use site that makes money from advertising. We have a modified experience for viewers using ad blockers

Wikia is not accessible if you've made further modifications. Remove the custom ad blocker rule(s) and the page will load as expected.