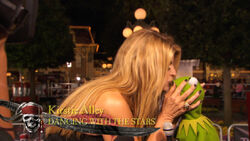 Kirstie Alley (b. 1951) is an Emmy Award winning actress best remembered for her role of Rebecca Howe on Cheers. She was interviewed by Kermit the Frog on the "black carpet" of Pirates of the Caribbean: On Stranger Tides. Kermit fainted after being kissed by her. At the time of the interview, she was a contestant on Dancing with the Stars season 12.
Alley's other credits include the television series Veronica's Closet, Fat Actress, both North and South TV miniseries and guest appearances on The Love Boat. Her first screen role was as Lt. Saavik Star Trek II: The Wrath of Khan.
External links
Ad blocker interference detected!
Wikia is a free-to-use site that makes money from advertising. We have a modified experience for viewers using ad blockers

Wikia is not accessible if you've made further modifications. Remove the custom ad blocker rule(s) and the page will load as expected.