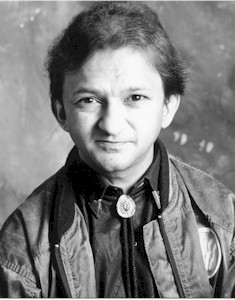 Kiran Shah (b. 1956), sometimes credited as Kirin Shaw, is a Kenyan actor and stunt man who has performed as a body puppeteer in various Muppet/Creature Shop productions. Shah served as the stunt double for Miss Piggy in The Great Muppet Caper. Shah also performed certain stunt scenes for Jen and The Chamberlain in The Dark Crystal. For the Creature Shop Hallmark TV version of Alice in Wonderland, Shah was the sole body puppeteer for The White Rabbit.
Shah's other film roles include portraying an Ewok in Return of the Jedi, Abu in Raiders of the Lost Ark, and a prominent role as Grinarrbik in The Chronicles of Narnia: The Lion, the Witch, and the Wardrobe. He was also a stand in for most of the Hobbits in The Lord of the Rings film series.
External links
Ad blocker interference detected!
Wikia is a free-to-use site that makes money from advertising. We have a modified experience for viewers using ad blockers

Wikia is not accessible if you've made further modifications. Remove the custom ad blocker rule(s) and the page will load as expected.