King Kong
Talk

0
26,374pages on
this wiki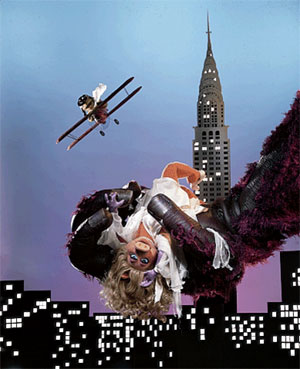 King Kong is a giant ape who became a very big movie star with his 1933 film, followed by a handful of sequels and remakes including a Japanese movie called "King Kong vs. Godzilla" where King Kong fights Godzilla.
He has been spoofed in numerous Muppet productions, his iconic climb up the Empire State Building being a frequent target of parody.
In the Jim Henson Hour special "Miss Piggy's Hollywood", Miss Piggy and Gonzo encounter an audio-animatronic Kong on the Universal Studios tour. He sings a line of the musical number "That's Entertainment" (voiced by Jerry Nelson).
The same theme park incarnation of Kong was featured in Muppet Magazine issue 21, in a feature where Miss Piggy tours Universal Studios.
Other Appearances
References
Muppet Magazine issue 10 includes a Ghostbusters parody comic in which the "Grossbusters" accidentally create a giant monster of trash which nabs Piggy and climbs to the top of the Empire State Building.
During the theme for Sesame English, as Tingo's plane arrives in New York, a gorilla is seen clinging to the Empire State Building.
In the "Kermit, P.I." segment seen in the Little Muppet Monsters episode "Space Cowboys," Kermit and Fozzie are on a mission to find a gorilla who has escaped from the zoo, eventually figuring that gorillas like pretty blondes on the Empire State Building.
Connections