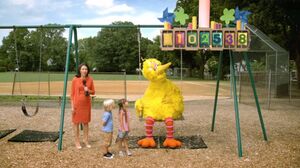 Kindness Counts is an online content-driven initiative launched by PBS Kids Sprout on August 2011 to help teach the importance of positive values and social behaviors to younger children. The site has a Kindness Counter which ticks up one number with each act that is submitted by a preschooler such as throwing away a piece of litter, feeding a pet, or making a new friend. The goal is to reach one million kind acts.
PBS Kids Sprout launched two short commercials for the Kindness Counts campaign; one features Big Bird and another features Barney. In the former, Ann Curry reports breaking news about the kind act of two kids inviting Big Bird (Caroll Spinney) to play with them. A number is added to the Kindness Counter and Ann Curry signs off to news anchor, Brian Williams.
External links
Ad blocker interference detected!
Wikia is a free-to-use site that makes money from advertising. We have a modified experience for viewers using ad blockers

Wikia is not accessible if you've made further modifications. Remove the custom ad blocker rule(s) and the page will load as expected.