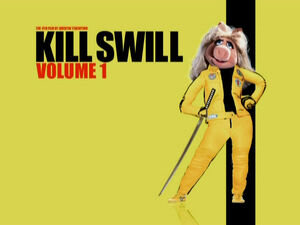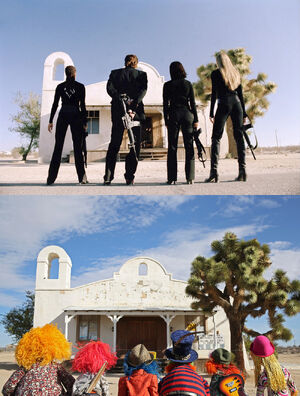 Kill Bill is a film by Quentin Tarantino released in two volumes between 2003 and 2004. It tells the story of a woman who awakens after several years in a coma to exact revenge on the man responsible for massacring her wedding.
References
The Muppets episode "The Ex-Factor" filmed in Hi Vista, CA for scenes in which Kristin Chenoweth is left in the desert. Although it didn't appear in the episode, a promotional photo of The Electric Mayhem standing in front of the Twin Pines Chapel was released. The chapel has appeared in a number of films and TV shows, but the framing of the photo (with the characters' backs to the camera, facing the chapel) most closely references a scene in Kill Bill featuring the Deadly Viper Assassination Squad (Vivica A. Fox, Michael Madsen, Lucy Liu, and Daryl Hannah).
Connections
Ad blocker interference detected!
Wikia is a free-to-use site that makes money from advertising. We have a modified experience for viewers using ad blockers

Wikia is not accessible if you've made further modifications. Remove the custom ad blocker rule(s) and the page will load as expected.