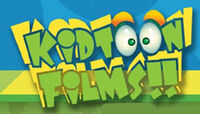 Kidtoon Films is a company that distributes G-rated films on a limited basis to affiliate movie theatres in the United States. Each movie is screened by a communications professor to comment on the particular family values for parents concerned about content. Kidtoons also hosts a sing-along and gives away prizes such as temporary tattoos, stickers and activity books.
Kidtoons released the Sesame Street DVD title Dinosaurs! for a limited theatrical run on weekends throughout May 2008. Kidtoons also screened Abby in Wonderland during the month of October in 2008.
External links
Ad blocker interference detected!
Wikia is a free-to-use site that makes money from advertising. We have a modified experience for viewers using ad blockers

Wikia is not accessible if you've made further modifications. Remove the custom ad blocker rule(s) and the page will load as expected.