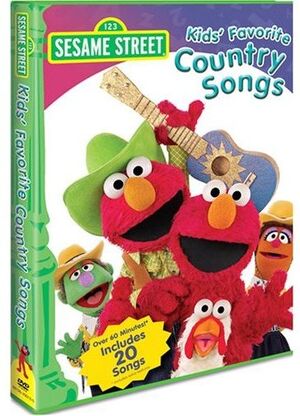 Kids' Favorite Country Songs is a 2007 direct-to-video Sesame Street special featuring Elmo and his country cousin, Elmer. The hour-long video includes over 20 songs and features celebrity guests, in both new footage and clips from the show, including Lee Ann Womack, John McEuen, John Popper, Allison Krauss, LD Miller, Johnny Cash, and in bonus features, Garth Brooks, Tim McGraw, Faith Hill and Sugarland.
The video's frame-work parodies the opening of Hee Haw, including an animated chicken replacing the latter show's donkey.
The DVD also features 8 bonus segments.
Songs
Bonus Sketches
See also
External links
Ad blocker interference detected!
Wikia is a free-to-use site that makes money from advertising. We have a modified experience for viewers using ad blockers

Wikia is not accessible if you've made further modifications. Remove the custom ad blocker rule(s) and the page will load as expected.