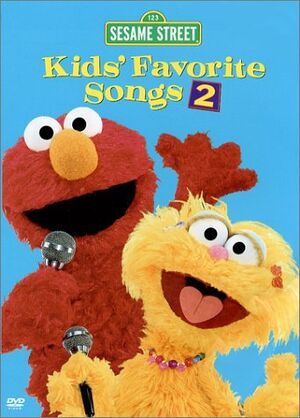 Kids' Favorite Songs 2 is a 2001 Sesame Street direct-to-video compilation. The video features a framing story with Elmo, Baby Bear, Rosita, Lulu, a Honker, Big Bird, Snuffy, Mary and her little lamb and the Kids.
In the story, Elmo talks with and films kids on their favorite songs. Meanwhile, the other Sesame Street characters sing some songs while Snuffy chases after a runaway meatball during his song.
Songs include:
Other releases
See also
Ad blocker interference detected!
Wikia is a free-to-use site that makes money from advertising. We have a modified experience for viewers using ad blockers

Wikia is not accessible if you've made further modifications. Remove the custom ad blocker rule(s) and the page will load as expected.