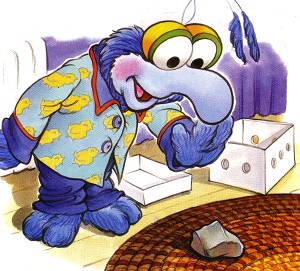 A child version of Gonzo appears in the Muppet Kids books and video games.
Gonzo usually wears a red sweater and blue jeans. He lives with his grandmother in a ramshackle house. Just like his adult counterpart, Gonzo loves weird things and acting silly. He has a pet rock, Cornelius. As a child, Gonzo still owns his toy chicken, Camilla, that he had as a baby.
In the Muppet Kids books, Gonzo has a grandma, a cousin, and an aunt. As an adult, Gonzo acknowledges no familial ties until Muppets from Space (see: Gonzo's Family).
See also
Ad blocker interference detected!
Wikia is a free-to-use site that makes money from advertising. We have a modified experience for viewers using ad blockers

Wikia is not accessible if you've made further modifications. Remove the custom ad blocker rule(s) and the page will load as expected.