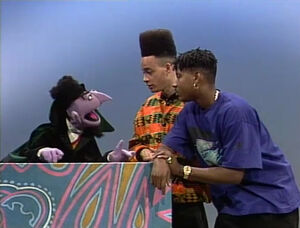 Kid 'n Play was a popular hip-hop duo from the late 1980s and early 1990s, comprised of Christopher "Kid" Reid (b. 1964) and Christopher "Play" Martin (b. 1962).
On Sesame Street, the duo appeared in a segment with Count von Count in which they rhymed about arguing whether to rap or count (EKA: Episode 2797). The duo also participated in the celebrity version of "Monster in the Mirror."
Ad blocker interference detected!
Wikia is a free-to-use site that makes money from advertising. We have a modified experience for viewers using ad blockers

Wikia is not accessible if you've made further modifications. Remove the custom ad blocker rule(s) and the page will load as expected.