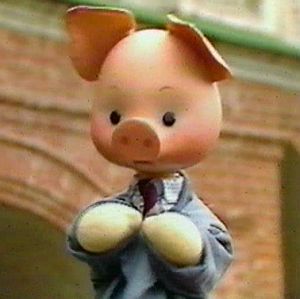 Khriusha the Pig is a popular Russian puppet, one of the stars of the long-running children's show Spokoinoi Nochi, Malyshi (roughly translated as Good Night, Little Ones or Good Night, Kids). Khriusha is a featured guest in the 1988 special Free to Be... a Family.
Khriusha appears early in the special, negotiating with Kermit the Frog and Miss Piggy for the show's production. Khriusha is somewhat aggressive, at one point pounding on the table ala Kruschev. Later in the show, in the "Pig to Frog" segment, Khriusha, joined by the other "Puppets of Soviet Television," engages in a satellite summit conference with Kermit and his Muppet colleagues, exchanging documentary films exposing the hypocrisy and failings of their respective countries.
In the US broadcast, Khriusha's own high-pitched Russian voice is heard, with a "lektor"-style voice-over (a deep-voiced male with a thick Russian accent) translating his comments. The character had previously appeared on US television earlier that year, in an installment of Mister Rogers' Neighborhood, accompanied by Spokoinoi Nochi, Malyshi hostess Tatiana Vedeneyeva (who also co-hosted Free to Be...)
Ad blocker interference detected!
Wikia is a free-to-use site that makes money from advertising. We have a modified experience for viewers using ad blockers

Wikia is not accessible if you've made further modifications. Remove the custom ad blocker rule(s) and the page will load as expected.