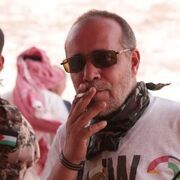 Khaled Haddad is the executive producer of Hikayat Simsim, the Jordanian co-production of Sesame Street.
He is Executive Producer, Director and General Manager of Jordan Pioneers Multimedia Productions, a Amman-based production company. With the company he has directed over 20 documentaries and television programs, in addition to TV ad and video clips. The company has worked on projects for the BBC, WGBH, National Geographic, Al-Arabyieh, Point du jour, Rolex, Maya Vision and Organic Production.
External links
Ad blocker interference detected!
Wikia is a free-to-use site that makes money from advertising. We have a modified experience for viewers using ad blockers

Wikia is not accessible if you've made further modifications. Remove the custom ad blocker rule(s) and the page will load as expected.