Kevin Smith (b. 1970) is an American filmmaker, comic book writer, and public speaker. He is known for a series of loosely connected movies centering around his own roots in New Jersey. Smith hosts his own podcast and a number of his public talks have been released on home video. He's also written comic books for a number of popular characters including Batman, Spider-Man, The Bionic Man, and The Green Hornet.
References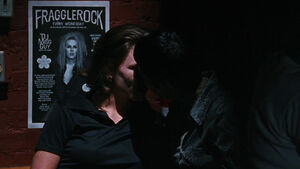 Clerks (1994) -- Dante and Randal are debating which Star Wars movie was better: Return of the Jedi or The Empire Strikes Back. Dante prefers Empire, pointing out that "All Jedi had was a bunch of Muppets!"
Chasing Amy (1997) -- A scene in a nightclub features a poster for a band called Fraggle Rock.
Dogma (1999) -- Bartleby, one of two fallen angels, is on a killing spree with his wings fully spread. To stall him, Jay yells, "Hey Big Bird! Ready for the counting game?! Count the shells!" and proceeds to fill the angel with bullets from an uzi.
Jay and Silent Bob Strike Back (2001) -- In one scene, director Chaka Luther King claims the white man stole his idea for Sesame Street, which would have been known as "NWP" ("Niggas With Puppets").
Connections
Ad blocker interference detected!
Wikia is a free-to-use site that makes money from advertising. We have a modified experience for viewers using ad blockers

Wikia is not accessible if you've made further modifications. Remove the custom ad blocker rule(s) and the page will load as expected.