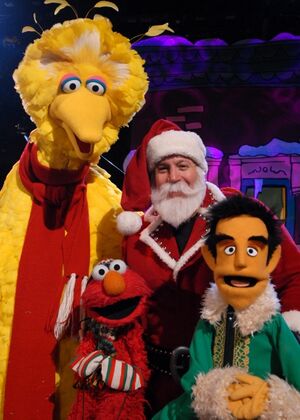 Kevin James (b. 1965) is an American comedian and actor, known for his portrayal of lead character Doug Heffernan on the sitcom The King of Queens.
James portrayed Santa Claus in the Sesame Street holiday special Elmo's Christmas Countdown.
James has one complaint with the series:
"

They repeat a lot and that really pisses me off because I'm just waiting for new episodes of Sesame Street to come out. It's like The Sopranos - C'mon! Turn it over! Do something! Then you see one and you're excited and you think it's gonna be a new one and you're like, 'Near and far again! That's what it is - near and far! I saw this 100 times.' I loved it the first time, but c'mon, keep me going here.[1]

"
Sources
↑ By Raye, "Kevin James can't spread the love, rags on Sesame Street", Celebrity Baby Blog, July 21, 2007.
External links
Ad blocker interference detected!
Wikia is a free-to-use site that makes money from advertising. We have a modified experience for viewers using ad blockers

Wikia is not accessible if you've made further modifications. Remove the custom ad blocker rule(s) and the page will load as expected.