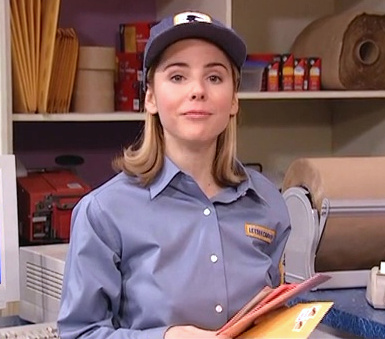 Kerry Butler (b. 1971) is a Tony Award-nominated stage actress who appeared once on Sesame Street as Ms. Camp in a season 33 episode. She is married to Muppet performer and writer Joey Mazzarino. They have a daughter named Segi, whom they adopted from Ethiopia. Butler later made a cameo in a season 45 episode.
Her many Broadway and stage credits include a run of Little Shop of Horrors as "Audrey" (with Martin P. Robinson), Hairspray (with Harvey Fierstein), Xanadu (with Whoopi Goldberg), Beauty and the Beast, and Catch Me If You Can.
On television, she appeared as Claudia Reston on the soap opera One Life to Live, and has made a guest appearance on 30 Rock.
External links
Ad blocker interference detected!
Wikia is a free-to-use site that makes money from advertising. We have a modified experience for viewers using ad blockers

Wikia is not accessible if you've made further modifications. Remove the custom ad blocker rule(s) and the page will load as expected.