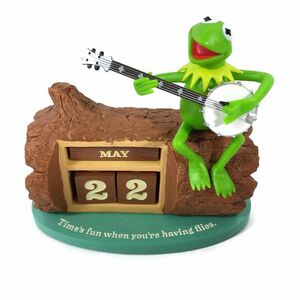 Hallmark sold a figural Kermit the Frog perpetual calendar, beginning in 2014.
Kermit is sitting on a log playing his banjo. The base of the calendar says "Time's fun when you're having flies." The wooden blocks for the month and day numbers can be removed and turned to reflect the current date.
Ad blocker interference detected!
Wikia is a free-to-use site that makes money from advertising. We have a modified experience for viewers using ad blockers

Wikia is not accessible if you've made further modifications. Remove the custom ad blocker rule(s) and the page will load as expected.