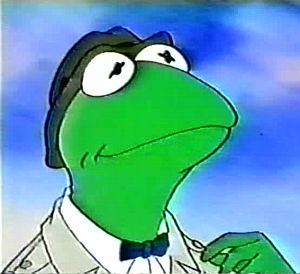 An animated version of Kermit the Frog appeared in the 1985 show Little Muppet Monsters. He was featured in "Kermit the Frog, Private Eye" segments, along with Fozzie and Miss Piggy.
Kermit the Frog, in puppet form and played as usual by Jim Henson, scripted the installments, and provided the opening narration, with voice actor Welker taking over for the remainder of the story.
Kermit, Private Eye also appeared in the final Muppet Babies episode, "Eight Flags Over the Nursery," using footage from the second aired episode of Little Muppet Monsters.
Several years earlier, an animated version of Kermit appeared in a promo for 25 Greatest Hits, singing a verse of "Bein' Green".