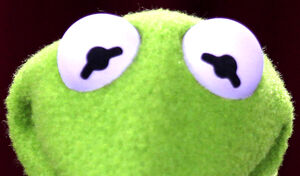 When the first puppet of Kermit the Frog was made, as an abstract character, his eyes were made from the halves of ping pong balls.[1] As such, this has been brought up many times with characters discussing the frog's appearance.
References
See also
Sources
↑ "Is This Any Way for Grownups to Make a Living? Yes, for Muppet Masters Jim & Jane Henson", Nellie Blagden, People. November 7, 1977.
Ad blocker interference detected!
Wikia is a free-to-use site that makes money from advertising. We have a modified experience for viewers using ad blockers

Wikia is not accessible if you've made further modifications. Remove the custom ad blocker rule(s) and the page will load as expected.