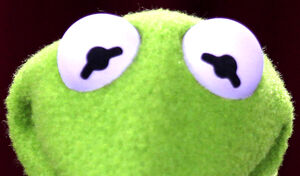 When the first puppet of Kermit the Frog was made, as an abstract character, his eyes were made from the halves of ping pong balls.[1] As such, this has been brought up many times with characters discussing the frog's appearance.
References
Rowlf the Dog insults Kermit in The Muppets on Puppets, comparing his eyes to "sawed-off ping pong balls." When Kermit asserts his eyes (which he claims are blue) are beautiful, Rowlf retorts, "I've never seen prettier ping pong balls."
Dr. Jerry Nelson performs a lecture on the Muppets in an appearance on The Vent Event. Kermit and Fozzie listen in as he describes the first Kermit puppet. After mentioning his ping pong ball eyes, Fozzie realizes, "That's what they reminded me of!"
During an appearance in the 1978 special Happy Birthday, Bob, Miss Piggy asks Kermit to play the part of Bob Hope as she serenades him with "Secret Love." Kermit claims he won't make a good Bob Hope, citing his "ping pong ball eyes" as a differentiator.
In episode 415 of The Muppet Show, Miss Piggy ogles Kermit's eyes, comparing them to "two ping pong balls floating in a pond of green algae." Kermit claims to get that type of remark a lot.
In a Sesame Street sketch, salesman Grover tries to butter up potential client Kermit by complimenting his good looks. He tells Kermit his eyes are like "two ping pong balls floating in a sea of mildew." "I don't know how to take that," replies Kermit.
See also
Sources
↑ "Is This Any Way for Grownups to Make a Living? Yes, for Muppet Masters Jim & Jane Henson", Nellie Blagden, People. November 7, 1977.
Ad blocker interference detected!
Wikia is a free-to-use site that makes money from advertising. We have a modified experience for viewers using ad blockers

Wikia is not accessible if you've made further modifications. Remove the custom ad blocker rule(s) and the page will load as expected.