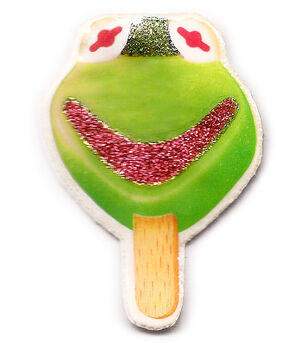 An ice cream bar in the likeness of Kermit the Frog was produced in Germany during the late 1980s/early 1990s by Unilever's Langnese brand (known as Wall's in the UK, Good Humor in the US and Canada, and Streets in Australia and New Zealand).
Free glittery, puffy stickers were distributed to advertise the snack.
In 1996 when Muppet Treasure Island was in theaters, the same ice cream bar, or at least a very similar one, was available in the UK for a short time.