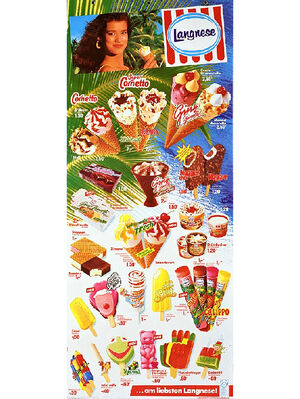 A Kermit ice cream bar was produced in Germany in the late 1980s/early 1990s by Unilever's Langnese brand (known as Wall's in the UK, Good Humor in the US and Canada, and Streets in Australia and New Zealand).
Free glittery, puffy stickers were distributed to advertise the snack.
In 1996 when Muppet Treasure Island was in theaters, the same ice cream bar, or at least a very similar one, was available in the UK for a short while.
Ad blocker interference detected!
Wikia is a free-to-use site that makes money from advertising. We have a modified experience for viewers using ad blockers

Wikia is not accessible if you've made further modifications. Remove the custom ad blocker rule(s) and the page will load as expected.