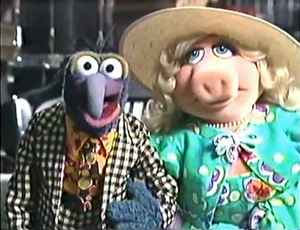 A promo for the Kermit Unpigged album. This promo starts with Gonzo talking about the album, but when he mentions the title, Miss Piggy is surprised, as she claims to be the star of the album. Gonzo agrees that she's the star, but points out that she's not the only star. An announcer then mentions which celebrities appear on the album, along with Kermit the Frog. Still shots of the celebrities are shown, as well as a clip from the "She Drives Me Crazy" music video.
This promo was included in the Muppet Classic Theater video.
Ad blocker interference detected!
Wikia is a free-to-use site that makes money from advertising. We have a modified experience for viewers using ad blockers

Wikia is not accessible if you've made further modifications. Remove the custom ad blocker rule(s) and the page will load as expected.