Ad blocker interference detected!
Wikia is a free-to-use site that makes money from advertising. We have a modified experience for viewers using ad blockers

Wikia is not accessible if you've made further modifications. Remove the custom ad blocker rule(s) and the page will load as expected.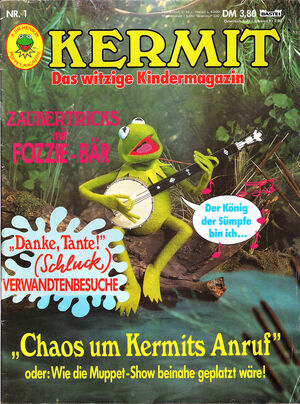 Kermit was a full-color monthly publication for the German language countries, billed as "Das witzige Kindermagazin" ("the funny children's magazine").
The publication was launched in 1989 under distribution of Bastei-Verlag, a publisher responsible for numerous other German language translations of Muppet, Fraggle and Muppet Babies books and comics available on the German, Austrian and Swiss markets throughout the 1980s and early 1990s.
From 1989 to 1990, four issues were released, containing mostly parody photos, games, comics and stories that had previously been published in Muppet Magazine and other Muppet-character related publications in the United States.
Each cover dons the "A Jim Henson Muppet Magazine" logo. Though unlike Muppet Magazine, its German counterpart did not include any Fraggle Rock or Muppet Babies content.
Issues
Credits
Kermit, Das witzige Kindermagazin
Publisher: Bastei-Verlag, Gustav H. Lübbe GmbH & Co.
Editor in Chief: Werner Geismar
Editorial Director: Kerstin Winter (issue #1), Ingrid Bachmann (issues #2-4)
Layout: Rüdiger Pareike (issue #1), Heidi Schade (issues #2-4)
Editors: Petra Fohrmann, Kerstin Winter (issue #1), Adrienne Zimmerer (issue #1)
Advertising Director: Paul Irmiter
Advertising Manager: Frank Michael Müller
Production Manager: Matthes Boden
Copyright: Henson Associated, Inc.
License: Booklink, London/Merchandising München
Print: Saint-Paul S.A. Luxembourg (issue #1), F & G Rollendruck, Berlin (issues #2-4)
Austrian Publisher: Zeitschriftengroßvertrieb A. Fröhlich
See also