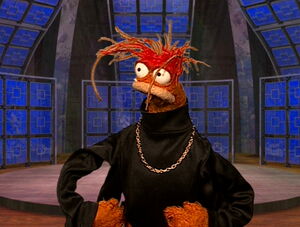 Pepe's Profiles are a series of special DVD features created for "Kermit's 50th Anniversary Edition" DVD releases of The Muppet Movie, The Great Muppet Caper, The Muppet Christmas Carol, and Muppet Treasure Island.
In each segment, Pepe the King Prawn spotlights a different Muppet character. Each piece includes interviews with the Muppets along with photographs, video clips and other information presented by Pepe.
Interviewees include: Kermit the Frog, Miss Piggy, Gonzo, Fozzie Bear, Statler and Waldorf, Sam Eagle, Dr. Bunsen Honeydew, and others.
Each segment runs around seven minutes in length.

Segments
Gallery
See also
Ad blocker interference detected!
Wikia is a free-to-use site that makes money from advertising. We have a modified experience for viewers using ad blockers

Wikia is not accessible if you've made further modifications. Remove the custom ad blocker rule(s) and the page will load as expected.