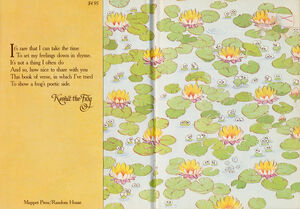 Kermit's Garden of Verses is "a collection of poems written from the point of view of Kermit the Frog about his fellow Muppets," each poem of which is accompanied by a character or scene illustration.
The title is a spoof of Robert Louis Stevenson's 1885 volume, A Child's Garden of Verses.
This was meant to have been one of many volumes of books filled with poetry based on the Muppets, however sales of this title did not meet expectations and a contract with Prelutsky was cancelled.[1]
Contents
I Started Life a Tadpole
When the Temperature Is Rising
Our Show
Memo From Kermit to Miss Piggy
Gonzo Will Do Anything
Memo From Kermit to Lew Zealand
Memo From Kermit to Beauregard
Pops the Doorman
Miss Piggy, Queen of Pigdom
The Muppet Monsters
Rowlf, Rowlf
Memo From Kermit to Dr. Bunsen Honeydew
Gonzo! Gonzo! Gonzo!
I'm Very Fond of Fozzie
Rizzo and His Rats
Memo from Kermit to the Muppet Cast
My Garden
Sounds
Sources
Ad blocker interference detected!
Wikia is a free-to-use site that makes money from advertising. We have a modified experience for viewers using ad blockers

Wikia is not accessible if you've made further modifications. Remove the custom ad blocker rule(s) and the page will load as expected.