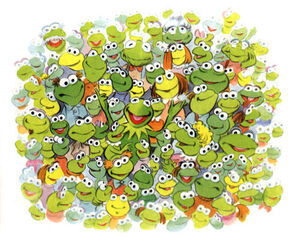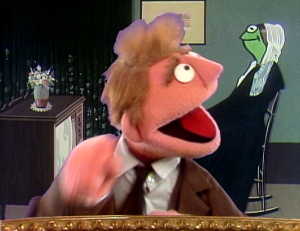 Kermit's family has been seen and mentioned in several projects.
Parents
Kermit's Mom was first mentioned in The Muppet Show Pitch Reel. Although she later appeared in the Muppet Kids books and Kermit's Swamp Years, her face has never been shown.
Siblings
Young Kermit was seen being trampled by a barrage (12 to be exact) of unnamed siblings in Kermit's Swamp Years.
In 1994, on Larry King Live, it was stated that Kermit was born one of several thousand children in a Southern swamp, and that he had 4,000 brothers and sisters (well, at last count).
In 2002, in the On the Set with Kermit interview for Kermit's Swamp Years DVD, Kermit said "I was the first born child, very responsible, you know. I had several thousand younger brothers and sisters." He then went on to name them: "Angie, Artie, Aloysius, Andy, Artemus,...Eloise, Eugene, Edward, Elaine,...Mortimer, Marry, Millicent, Molly, Matthew,...Yolanda, Yo-yo, Ya-ya, Ye-ye (Mom and Dad were kind of running out of names by then),... Zeek, Zachary, and, of course, Zschlomo (the Z is silent)."
In 2005, on Extreme Makeover: Home Edition, Kermit commented to Ty Pennington that "You know, as a tadpole in the swamp, I had 3,265 brothers and sisters!" This number was also used by Kermit on Q with Jian Ghomeshi, in 2011, where he stated he is the oldest of all his siblings.[1]
Kermit's 2006 book, Before You Leap, cites 2,353 siblings. Although he concedes that the number is approximate -- as it is with all frog families. This number was supported in a 2006 Early Show appearance, where Kermit used the same number. He commented that at Christmas it takes two weeks for everyone to hang up their coats.
Other Family Members
In a Target commercial, Kermit taunted Brad Paisley that his Grandmother "plays better than that," during a banjo duel. (This may simply be a taunt, and not a reference to the actual abilities of Kermit's grandmother.)
Alternate Families
Kermit (unwittingly and unknowingly) married Miss Piggy in The Muppets Take Manhattan – although subsequent events suggest that it was only their characters in the movie that married, and that their relationship is really the same as ever.
On June 28, 2006, Kermit made a surprise appearance on Good Morning America for Charlie Gibson's farewell as the show's co-anchor. Referring to a picture of Gibson and his family posing with Kermit from a few years earlier, Gibson affectionately referred to Kermit as his "adopted son," to which the famed frog began this exchange with Gibson:
Kermit: Dad, can I borrow the car tonight?
Gibson: OK, but stay out of the back seat.
Kermit: With my luck, I'll probably end up in the trunk.
See also
Sources