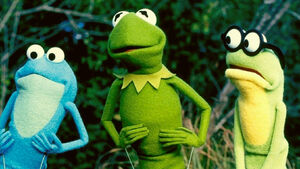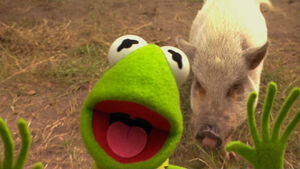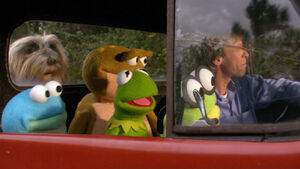 Kermit's Swamp Years premiered on the Starz Channel on August 18, 2002 and was quickly followed by a broad video and DVD release on September 3, 2002. It was distributed by Columbia Pictures and Jim Henson Home Entertainment and taped on location in Napples, Florida, and at the Disney MGM Studios.
Synopsis
Bookended by an adult Kermit the Frog, the film tells the story of how he, as a youngster, ventured out of the swamp for the first time, along with his friends Goggles and Croaker. The movie includes several original songs.
The story follows Kermit as he is followed by an evil schoolteacher and his assistant that want to catch the frogs to use in a high school science class.
There is a blooper reel at the end of the movie during the credits, backed by Me First and the Gimme Gimmes' rock version of "The Rainbow Connection."
Cast
Muppet Cast
Crew
DVD Features
Kermit's Swamp Years (widescreen & full frame)
Audio: English, French, Portuguese, and Spanish
Subtitles: English, Chinese, and Thai
Merchandise
External links
Ad blocker interference detected!
Wikia is a free-to-use site that makes money from advertising. We have a modified experience for viewers using ad blockers

Wikia is not accessible if you've made further modifications. Remove the custom ad blocker rule(s) and the page will load as expected.