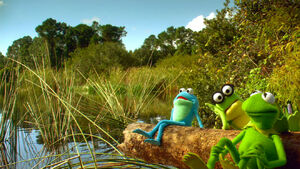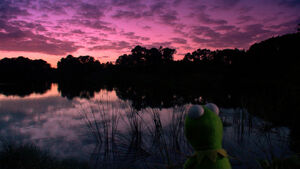 Kermit's Swamp was first shown in The Muppet Movie, and has since appeared in the such books as Kermit, Save the Swamp! Although The Muppet Movie does not specify the Swamp's location, many reviews of the film, including that of Vincent Canby [1] and an article in TIME magazine,[citation needed] referred to it as a "Georgia swamp." A 1978 draft script referred to the Swamp simply as "a swamp in the deep south." [2]
Some evidence suggests that the Swamp is actually Okefenokee Swamp, a large wetland that straddles the border between Georgia and Florida. For example, the comic strip Pogo, which is said to have "influenced Jim Henson's development of Muppet characters," [3] was set in and around Okefenokee Swamp. Furthermore, in The Muppet Show episode 509, Kermit's nephew Robin appears as a member of The Precision Drill Team from the Okefenokee Pack 12 of the Frog Scouts of America. Finally, one installment of The Muppets comic strip shows Kermit and Miss Piggy visiting Okefenokee Swamp to meet Kermit's relatives. In the distance, another frog waves to Kermit and Piggy in apparent recognition.
Nevertheless, other plausible locations of Kermit's Swamp remain. For example, in The Muppets at Walt Disney World, Kermit brings the Muppet gang to visit his aunts and uncles in Paradise Swamp, Florida (adjacent to Walt Disney World), and says that this swamp is where he "grew up." In contrast, Kermit's Swamp Years has the swamp situated in Mississippi, just outside of Leland (though The Muppets Character Encyclopedia says that Kermit was born in Leland, Mississippi).
According to a 2012 statement by Kermit, Frogtown Hollow is right upstream from his swamp; making Kermit and Emmet Otter neighbors.[4]
When hosting The Tonight Show, Kermit said he doesn't think that his mother would be watching, as he wasn't sure if they had a TV back in the swamp.
The swamp appears as a race track in Muppet RaceMania.
Residents of the Swamp
Arnie the Alligator (The Muppet Movie and Kermit's Swamp Years)
Goggles (Kermit's Swamp Years)
Croaker (Kermit's Swamp Years)
Blotch (Kermit's Swamp Years)
Kermit's Mom (Kermit's Swamp Years, also mentioned in The Muppet Show Pitch Reel)
Horace D' Fly (Kermit's Swamp Years)
Harry, Mary, Larry, Terri, Gary, Perry, and Lou (The Muppets at Walt Disney World)
Various Alligators
Fergus (Kermit, Save the Swamp!)
Lulu (Kermit, Save the Swamp!)
Nemo (Kermit, Save the Swamp!)
Alice (Kermit, Save the Swamp!)
Garnett and her children (Kermit, Save the Swamp!)
Tennyson (Kermit, Save the Swamp!)
Sources
Ad blocker interference detected!
Wikia is a free-to-use site that makes money from advertising. We have a modified experience for viewers using ad blockers

Wikia is not accessible if you've made further modifications. Remove the custom ad blocker rule(s) and the page will load as expected.