Ad blocker interference detected!
Wikia is a free-to-use site that makes money from advertising. We have a modified experience for viewers using ad blockers

Wikia is not accessible if you've made further modifications. Remove the custom ad blocker rule(s) and the page will load as expected.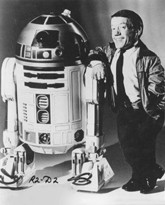 Kenny Baker (1934-2016) was an actor best known for playing R2-D2 in the first six Star Wars films. Although R2 made several Muppet related appearances, Baker did not perform the character: "On the few times that there was a Star Wars special they would use the three legged R2, like on The Muppet Show."[1]
However, Baker did work with Jim Henson, as a member of the goblin corps in Labyrinth. His other films include Time Bandits, The Elephant Man, and Amadeus.
Sources
↑ starwarz.com "Interview with Kenny Baker" by T-bone, July 25, 2000
External links
See also