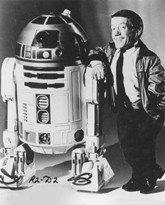 Kenny Baker (1934-2016) was an actor best known for playing R2-D2 in the first six Star Wars films. Although R2 made several Muppet related appearances, Baker did not perform the character: "On the few times that there was a Star Wars special they would use the three legged R2, like on The Muppet Show."[1]
However, Baker did work with Jim Henson, as a member of the goblin corps in Labyrinth. His other films include Time Bandits, The Elephant Man, and Amadeus.
Sources
↑ starwarz.com "Interview with Kenny Baker" by T-bone, July 25, 2000
External links
See also
Ad blocker interference detected!
Wikia is a free-to-use site that makes money from advertising. We have a modified experience for viewers using ad blockers

Wikia is not accessible if you've made further modifications. Remove the custom ad blocker rule(s) and the page will load as expected.