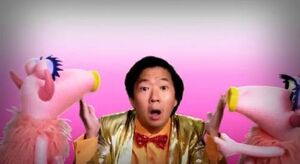 Ken Jeong (b. 1969) is an American comedian, actor and physician. He is best known for his role as Ben Chang in the NBC comedy series Community.
Jeong will appear on Sesame Street to explain the word "deciduous" in a Season 42 Word of the Day segment.
In The Muppets, Jeong plays the "Punch Teacher" Host. He also appeared in the Never-Ending Mahna Mahna Phenomahna.
Among Jeong's other credits are the feature films Transformers: Dark of the Moon, The Hangover: Part II, Despicable Me (with Jason Segel) and the Twilight Saga spoof Vampires Suck. Television appearances including voicing Dr. Perlmutter on American Dad!, The Office, and MADtv.
External links