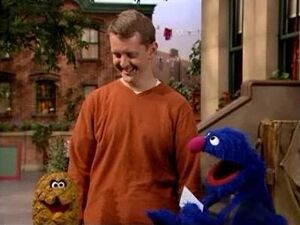 Ken Jennings (b. 1974) gained fame for setting the record for the longest winning streak on the game show Jeopardy! Jennings won 74 games before he was defeated by challenger Nancy Zerg on his 75th appearance. His total earnings on Jeopardy! were $3,022,700.
Jennings appeared on Sesame Street in season 36, appearing in a Healthy Moment segment with Grover. In the segment, Grover asks him to name something that is sweet and full of vitamins. In the form of a question, Jennings answers, "What is a fruit?" and gets it correct. His prize is a Muppet pineapple.
External links
Ad blocker interference detected!
Wikia is a free-to-use site that makes money from advertising. We have a modified experience for viewers using ad blockers

Wikia is not accessible if you've made further modifications. Remove the custom ad blocker rule(s) and the page will load as expected.