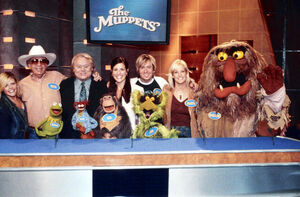 Keith Urban (b. 1967) is an Australian Grammy Award-winning country music star. He appeared with The Dixie Chicks and Buck Owens opposite the Muppets on Family Feud in 2001. In his first face-off on the show, he agreed to use his chin instead of his hand to strike the buzzer in a gesture of sportsmanship towards his opponent, the shorter-limbed Pepe the King Prawn. Urban lost the face-off.
He is married to actress Nicole Kidman, whose role as Satine in Moulin Rouge! was spoofed by Miss Piggy as Saltine in the Moulin Scrooge parody in It's a Very Merry Muppet Christmas Movie. Paparrazi spotted Kidman buying a Grover stuffed toy.[1]
Sources
↑ Nadia Mendoza, "Nicole Kidman takes a trip to Sesame Street: Grover puts in a winning performance as actress picks him for her daughters", The Daily Mail, 29 June 2011.