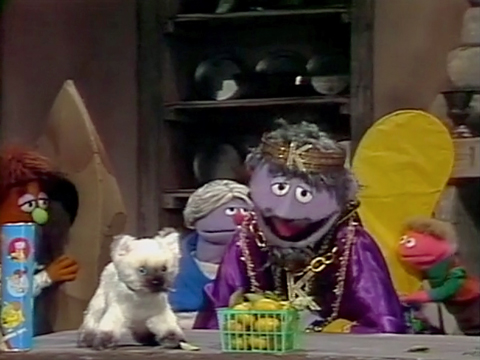 Katie and the King is a Sesame Street story narrated by Olivia to a group of kids and Oscar the Grouch. The story is performed by the Anything Muppets.
The story tells of King Kenny the Kind, who loves everything that starts with the letter K. He holds a proclamation to his subjects that whoever can bring him one thing that starts with the letter K that he does not already have, they would be the keeper of the Ks of the entire kingdom. His subjects bring things that start with the letter K, but the king would reply that he had already owned one just like it. Just then, the king's granddaughter, Katie, arrives and says she has a thing that starts with the letter K to give to the king. Katie gives him a kiss and the king replies it is something he hasn't already have in his kingdom. The king happily proclaims his granddaughter as keeper of the Ks.
Performers
Ad blocker interference detected!
Wikia is a free-to-use site that makes money from advertising. We have a modified experience for viewers using ad blockers

Wikia is not accessible if you've made further modifications. Remove the custom ad blocker rule(s) and the page will load as expected.