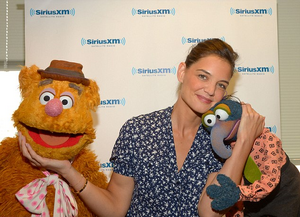 Katie Holmes (b. 1978) is an actress who became famous for her starring role as Joey Potter in the TV show Dawson's Creek, opposite James van der Beek.
In 1999, she and co-star Joshua Jackson made a cameo appearance as their Dawson's Creek characters, Joey and Pacey, in Muppets from Space.
Holmes also appeared in Batman Begins, with additional visual effects by Jim Henson's Creature Shop.
Holmes reconnected with the Muppets when she met Fozzie Bear and Gonzo during a 2014 appearance on Sirius Radio. (photos)
External links
Ad blocker interference detected!
Wikia is a free-to-use site that makes money from advertising. We have a modified experience for viewers using ad blockers

Wikia is not accessible if you've made further modifications. Remove the custom ad blocker rule(s) and the page will load as expected.