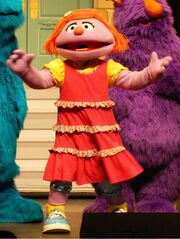 Katie is a new Muppet-style walk-around character, created for the USO Experience for Military Families. She replaced Zoe in the existing lineup.
Meant to look like a Lavender Anything Muppet, she is somewhat reminiscent of the Roxie Marie stage character, which lasted in Sesame Street Live tours over a decade longer than the character did on the show itself. She also appeared as an animated character, voiced by Leslie Carrara-Rudolph. (YouTube)
See also
Ad blocker interference detected!
Wikia is a free-to-use site that makes money from advertising. We have a modified experience for viewers using ad blockers

Wikia is not accessible if you've made further modifications. Remove the custom ad blocker rule(s) and the page will load as expected.