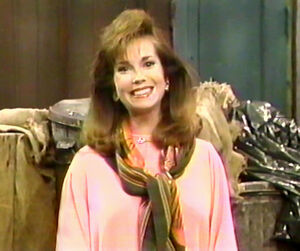 Kathie Lee Gifford (b. 1953) was the long time co-host (with Regis Philbin) of Live with Regis and Kathie Lee, of which the Muppets were frequent guests.
She was parodied as Kathie Lee Kathie (Julia Louis-Dreyfus) in Sesame Street's All-Star 25th Birthday, and also made a cameo appearance with Regis Philbin, having a phone conversation with her namesake.
External links
Ad blocker interference detected!
Wikia is a free-to-use site that makes money from advertising. We have a modified experience for viewers using ad blockers

Wikia is not accessible if you've made further modifications. Remove the custom ad blocker rule(s) and the page will load as expected.