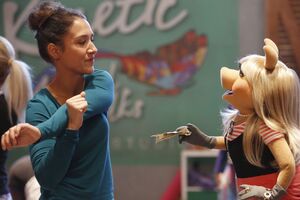 Kat Purgal is a television actress who appeared as Gwynne in The Muppets episode "Got Silk?.
Purgal had recurring role on the NBC series Heroes and appeared in music videos for Flight of the Conchords and Plain White T's. She has also been featured on It's Always Sunny In Philadelphia, The Neighbors, and heard on Family Guy, American Dad, and Marvel Anime: Blade.
External links
Ad blocker interference detected!
Wikia is a free-to-use site that makes money from advertising. We have a modified experience for viewers using ad blockers

Wikia is not accessible if you've made further modifications. Remove the custom ad blocker rule(s) and the page will load as expected.