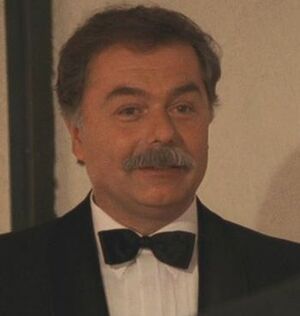 Karl Heinz-Krolzyk (1934-2009) was a German voice actor who dubbed Waldorf in a few later Muppet projects, between 1999 and 2006.
With a background in theater, Krolzyk entered television starting in the 1970s and appeared in multiple episodes of the crime series Derrick and Tatort (usually as janitors, clerks, or waiters), as well as in commercials (as spokesman for Melitta coffee filters). As a voice actor, he dubbed Rip Torn in For Better or Worse, secondary roles in later Columbo installments, and other supporting and bit parts (often bartenders). In animation, he dubbed Captain McAllister and others on The Simpsons, the Sandman and Kraven the Hunter on the 1980s Spider-Man, Splinter and Bebop on Teenage Mutant Ninja Turtles, and a town councilor and ensemble roles in the German animated feature Jester Till.
Muppet dubbing credits
External links
Ad blocker interference detected!
Wikia is a free-to-use site that makes money from advertising. We have a modified experience for viewers using ad blockers

Wikia is not accessible if you've made further modifications. Remove the custom ad blocker rule(s) and the page will load as expected.