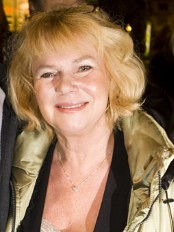 Kari-Ann Grønsund (b. 1951) is a Norwegian actress who has provided several voices for the dubbed Muppet segments of Sesam Stasjon, the Norwegian version of Sesame Street, as well as Ma Bear and others in En Muppet Julefortelling, the Norwegian dub of The Muppet Christmas Carol.
She has been heard in many other Norwegian dubs. Some of her most notable roles include Mrs. Potato Head in the Toy Story movies, Granny in various Looney Tunes dubs, Montana Max in Tiny Toon Adventures, Madam Mim in The Sword in the Stone, Kanga in the Winnie the Pooh franchise, and Dennis the Menace, as well as dubbing Glynis Johns as Mrs. Banks in Mary Poppins.
She's also played several roles in movies, TV series and stage productions.
External links