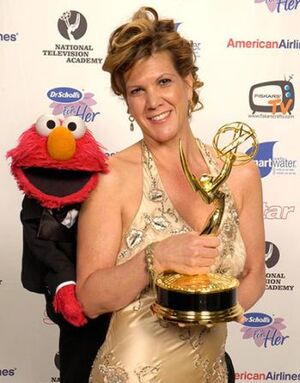 Karen Ialacci was a line or coordinating producer for Sesame Street and video projects from 1998 until roughly 2005.
Ialacci joined the show as a production assistant in 1993, for Season 25. The following season, she moved up to production coordinator (or production supervisor) through Season 29. For Season 30, she moved up to line producer and would continue in related titles. She shared in multiple Daytime Emmy Awards for Sesame Street as Outstanding Pre-School Children's Series.
After leaving Sesame Street, Ialacci moved into children's animation, as a producer on Olivia, The Mr. Men Show, Noddy in Toyland, and Nickelodeon's Peter Rabbit.
Producer credits
Ad blocker interference detected!
Wikia is a free-to-use site that makes money from advertising. We have a modified experience for viewers using ad blockers

Wikia is not accessible if you've made further modifications. Remove the custom ad blocker rule(s) and the page will load as expected.