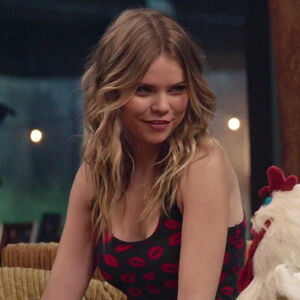 Kamilla Alnes is a Norwegian actress who appeared in The Muppets episode "Little Green Lie" as "Model #2". She and Hilty Bowen (as "Model #1") play friends of Camilla the Chicken who hang out at Gonzo's house wearing nothing but lingerie. Alnes's character suggests the three have an "ironic pillow fight like in all those movies made by men" when they learn that Rizzo and Pepe won't be joining them.
Alnes's other roles include appearing on The CW's Jane the Virgin, and American Horror Story (with Lady Gaga).
External links
Ad blocker interference detected!
Wikia is a free-to-use site that makes money from advertising. We have a modified experience for viewers using ad blockers

Wikia is not accessible if you've made further modifications. Remove the custom ad blocker rule(s) and the page will load as expected.